Latest Release:
Posted on | April 6, 2014 | No Comments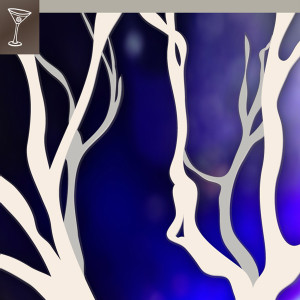 Out now on Beat­port via Har­mo­nious Dis­cord Record­ings, fea­tur­ing remix­es by Evan Marc (aka Bluetech) and Patchen Pre­ston. Art­work by ellisett.
1) Aeo­lian Intro
2) C5
3) C5 (Patchen's Yel­low Fever Mix)
4) Night Groove (Orig­i­nal Mix)
5) Night Groove (Bluetech Remix)
6) D13
7) Talk Is Cheap
http://www.beatport.com/release/night-ep/1241604
---
Recent Posts:
Posted on | March 6, 2018 | No Comments
In an attempt to get my tracks to sound more like the tunes I like to DJ, I ran across an arti­cle about how club sub freq's can range down to about 40Hz, which is just below the note E1.
| | |
| --- | --- |
| Note | Hz |
| C1 | 32.7 |
| D1 | 36.7 |
| E1 | 41.2 |
| F1 | 43.7 |
| G1 | 49.0 |
| A1 | 55.0 |
The arti­cle (wish I could find it again) men­tioned that's why a bunch of tracks are in F and G — because those root bass notes fall com­fort­ably in the range that can be played back. A low F1 note is prob­a­bly one of those tones that sounds KILLER on a good rig.
Look­ing at some of my favorite house, tech­no, and deep tech tracks from 2017, I noticed that most are in F, Bb, Eb, G, or C. I'm not sure my analy­sis soft­ware (djay Pro 2) is dis­cern­ing major vs minor here.
But check out the cir­cle of fifths:
(By Just plain Bill — Own work, CC BY-SA 3.0, https://commons.wikimedia.org/w/index.php?curid=4463183)
… those keys are all clus­tered in the upper-left cor­ner, which means that they will be easy to tran­si­tion to dur­ing a set because jumps to neigh­bor­ing keys in the cir­cle of fifths sound good.
Now inter­est­ing­ly, this guy's analy­sis of the Beat­port Top 100 Tracks showed a dif­fer­ent set of pop­u­lar keys — but I don't play tracks as "Pop"-y as the Top 100. Who knows.
Posted on | December 24, 2015 | No Comments
This is a mid-side stereo patch explor­ing ways of spread­ing the var­i­ous out­puts from the DPO around the stereo field. The DPO sends 6 wave­forms to the RxMx. The low­er-num­bered RxMx chan­nels are fed fun­da­men­tals, and become the "mid" sig­nal. The high­er chan­nels have increas­ing­ly spec­tral­ly-rich oscil­la­tors, and become the "side" sig­nal.
The first clip has some reverb, ping-pong delay and drums added. The sec­ond clip is the raw patch:
Mid-side decod­ing is:
L = M + S
R = M — S
Maths is used to invert the "Side" sig­nal and sub­tract it from "Mid". The Optomix is used to add these two togeth­er. That way, we have the L and R sig­nals.
I'm fil­ter­ing the Side sig­nal via the MMG, which allows for fil­ter­sweeps that only hap­pen in stereo. It's also a good idea to scoop out the fre­quen­cy range occu­pied by the Mid sig­nal with a high­pass so the decod­ed sound isn't as hol­low. One of the many beau­ties of MS encod­ing is you can do stereo fil­ter­ing (of sorts), using mono fil­ters / effects.
One inter­est­ing part is cal­i­brat­ing the lev­els of chan­nels 2 and 3 on Maths to get the bal­ance right. Set the RxMx chan­nel and radi­ate con­trols so you only hear chan­nel 1. This should be pure "Mid". Adjust Maths Ch 2 so that the L and R out­puts are the same lev­el. Next, set the RxMx so you only hear chan­nel 6 — this should be pure "Side". Adjust Ch 3 on Maths in the neg­a­tive until the L and R chan­nels have a rough­ly equal lev­el. The sound should be com­plete­ly phase-invert­ed from left to right.
Now, set­ting chan­nel and radi­ate should mix between mono and stereo imag­ing, with the high­er har­mon­ics appear­ing main­ly in the stereo field. Things can get pret­ty nuts of you tune Oscil­la­tor A and B to dif­fer­ent fre­quen­cies.
Posted on | November 17, 2014 | No Comments
I got a mod­u­lar piece accept­ed on the Make Noise Records "Shared Sys­tem Series" com­pi­la­tion today! The series is intend­ed to show­case artists using the MakeNoise SharedSys­tem rig to make a live com­po­si­tion, with no over­dubs and no exter­nal effects (except an option­al reverb).
Here's my piece:

Here's the patch:
http://www.modulargrid.net/e/patches/view/9225
And check out the whole playlist here:

Posted on | April 6, 2014 | No Comments
So I recent­ly got a MakeNoise SharedSys­tem mod­u­lar rig, and one thing miss­ing from it was an appar­ent lack of the abil­i­ty to make… noise. White noise.
How­ev­er, by push­ing the Wog­gle­bug and the DPO's inter­nal mod­u­la­tion rout­ing to the extreme, you can get some decent-sound­ing white noise. Basi­cal­ly, you turn most of the knobs on both mod­ules all the way clock­wise and lis­ten to the DPO final out­put.
Here's how it sounds, going through an MMG for fil­ter sweeps and the Echophon for some delay:
Posted on | February 29, 2012 | No Comments
This is a very sim­ple trick to do, but not so obvi­ous to fig­ure out that it's even pos­si­ble. The idea is to sidechain com­press the pro­cess­ing on a Return bus by its own input sig­nal, in order to clear out some "emp­ty" space around the dry sig­nal. It's like mak­ing a "breath­ing fx bus".
For exam­ple, if you have a stac­ca­to vocal sam­ple being sent into a reverb or a delay, using this trick the effect tails will "swell in" over time after the dry sig­nal stops. It's sim­i­lar to kick sidechain­ing.
Here's an exam­ple with­out a halo:
Now with:
That's not the most inspir­ing demo, but this can sound very organ­ic, and helps clear space in a full mix. To set up in Live:
Send sound from an Audio track to a Return track.
On the Return track, add a plu­g­in that cre­ates a tem­po­ral tail: ie reverb or delay.
Add a com­pres­sor after the fx.
Enable Sidechain, and set the Audio From drop­down to the same Return track you're on.
Set the Audio From posi­tion to "Pre FX" in order to sidechain from the dry sig­nal.
Set up your thresh­old, release, ratio etc. to get your desired "halo" pump­ing sound around the input sig­nal.
This can be a real­ly nice way to get some breathy flut­ter­ing organ­ic motion in a net­work of Return tracks that might even be cross-send­ing sig­nal to each oth­er in a feed­back net­work…
Posted on | May 11, 2011 | No Comments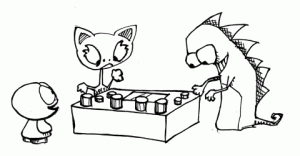 So I've had a Ruin & Wesen Mini­Com­mand for a lit­tle under a year, but haven't been using it as much as I would like because it didn't inte­grate well with my set­up — until last night.
The stan­dard way to use the Mini­Com­mand is to con­nect it in a closed MIDI loop with the device in ques­tion — which makes it hard use in a com­put­er-based MIDI set­up with a sequencer. There are ways around this, eg. daisy-chain­ing the Mini­Com­mand between the computer's MIDI inter­face and the device you want to con­trol, but I have found that this intro­duces some small tim­ing delays (enough to dri­ve me crazy).
Posted on | January 6, 2011 | 2 Comments
Here's a cool sound-design trick. If you want to get a vocal-sound­ing 'for­mant fil­ter' effect out of a synth that only has a nor­mal low­pass fil­ter, you can take advan­tage of a quirk of sam­ple-rate reduc­tion effects to gen­er­ate mul­ti­ple "mir­rored" fil­ter sweeps through the won­der of alias­ing.
Here's a sound clip from my machine­drum with a sim­ple saw­tooth note and a res­o­nant low­pass fil­ter being mod­u­lat­ed down over a quick sweep. It's played four times, each with increas­ing amounts of sam­ple-rate reduc­tion applied:
This sam­ple looks like this in a sono­gram (I used the Sono­gram View plu­g­in that Apple includes with XCode). Hor­i­zon­tal axis is time, ver­ti­cal is fre­quen­cy: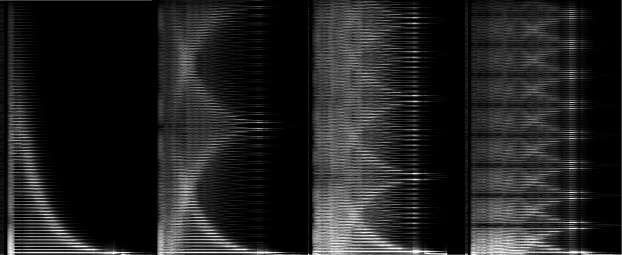 Notice that as the alias­ing (reflect­ed fre­quen­cies) increase with the sam­ple-rate reduc­tion effect, you begin to see mul­ti­ple copies of the fil­ter sweep. This cre­ates the love­ly, com­pli­cat­ed "alien voice" sound. Here's a short Machine­Drum loop I was play­ing around with when I real­ized what was going on here:
And for the Elek­tron-heads read­ing this, here's the MD sysex for that pattern+kit:
alien-autopsy-md.syx
PS: the wikipedia arti­cle on alias­ing has a good run­down on the details of this phe­nom­e­non.
Posted on | September 12, 2010 | No Comments

Out now on Beat­port, Wake Up Tech fea­tures three orig­i­nal tracks and two dance­floor-friend­ly remix­es by Point­ben­der (Sean Ander­son) and Gift Cul­ture (Michael Hale). This EP was released under my tech-house alias 'Chaka­har­ta'.
Alem­bé
Super­bro­ken
Super­bro­ken (Pointbender's Super­ben­der Mix)
Super­bro­ken (Gift Culture's Psytech Mix)
Jaz­zstab
Album art­work by Jamie Cameron Northrup.
Avail­able for Down­load on Beat­port. Please pass the word if you like it, and thanks for your sup­port!
Har­mo­nious Dis­cord 022 — Chaka­har­ta — Wake Up Tech Ep by Har­mo­nious Dis­cord
Early Reviews:
Nick War­ren - "Excel­lent" [Hope Record­ings)
Noah Pred – "thanks for send­ing! point­ben­der mix works best for me but the gift cul­ture mix has a nice groove too" [Thought­less Music]
Josh Collins – "real­ly like those tracks, nice work!" [Human Life/NRK]
Shur-i-kan — "Very chunky!" [Freerange / NRK / Slip & Slide]
Soul Minor­i­ty – "Alem­be is Superb !! Will sup­port Oth­er tracks are a bit too techy for me, but Alem­be in 10/10 !!! Thanks !" [Kolour / Pack Up And Dance / Stratos­pherik]
Posted on | June 6, 2010 | 4 Comments
In Part one of this series, I post­ed tips for get­ting the Mono­ma­chine and Machine­drum synced and record­ing prop­er­ly with your Live ses­sions. The oth­er half of the equa­tion is which oper­a­tions to avoid that might intro­duce laten­cy and tim­ing errors dur­ing your ses­sions.
Ableton Prints Recordings Where It Thinks You Heard Them
I guess this design must be intu­itive for many users, but it con­fused me for a while. If you have a set­up with any­thing but a minis­cule audio buffer, mon­i­tor­ing through a vir­tu­al instru­ment witha few laten­cy-induc­ing plu­g­ins in the mon­i­tor­ing chain, you will hear a fair amount of mon­i­tor­ing laten­cy when you play a note. The same goes for record­ing audio.
When record­ing a MIDI clip, I expect­ed that Live puts the actu­al MIDI events when I played them — which it doesn't. It shifts the MIDI notes lat­er in time to match when you actu­al­ly heard the out­put sound — try­ing to account for your audio buffer delay, the laten­cy of your vir­tu­al instru­ment, and any audio pro­cess­ing delay from plu­g­ins in the down­stream sig­nal path. There's one excep­tion to this — it doesn't wor­ry about delays you might hear due to any "Sends" your track is using.
So your MIDI notes (and CC's) are record­ed with "baked-in" delays the size of your mon­i­tor­ing chain laten­cy. I'm going to call this baked laten­cy.
keep looking »