Posted on | January 6, 2011 | 2 Comments
Here's a cool sound-design trick. If you want to get a vocal-sounding 'formant filter' effect out of a synth that only has a normal lowpass filter, you can take advantage of a quirk of sample-rate reduction effects to generate multiple "mirrored" filter sweeps through the wonder of aliasing.
Here's a sound clip from my machinedrum with a simple sawtooth note and a resonant lowpass filter being modulated down over a quick sweep. It's played four times, each with increasing amounts of sample-rate reduction applied:
This sample looks like this in a sonogram (I used the Sonogram View plugin that Apple includes with XCode). Horizontal axis is time, vertical is frequency: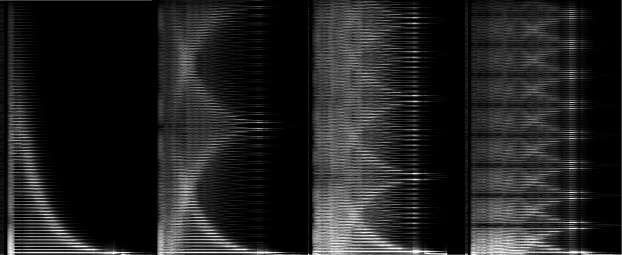 Notice that as the aliasing (reflected frequencies) increase with the sample-rate reduction effect, you begin to see multiple copies of the filter sweep. This creates the lovely, complicated "alien voice" sound. Here's a short MachineDrum loop I was playing around with when I realized what was going on here:
And for the Elektron-heads reading this, here's the MD sysex for that pattern+kit:
alien-autopsy-md.syx
PS: the wikipedia article on aliasing has a good rundown on the details of this phenomenon.
Comments